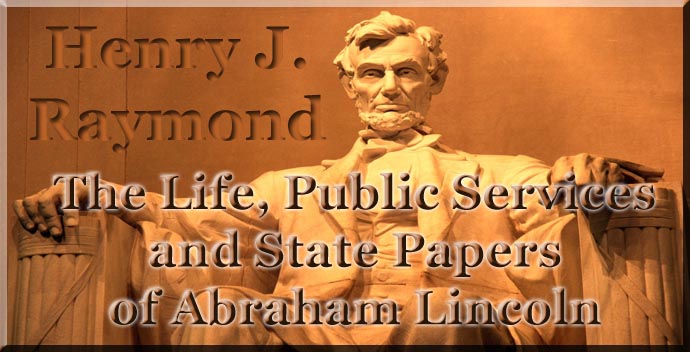 THE
LIFE
AND PUBLIC SERVICES
OF
ABRAHAM LINCOLN,
SIXTEENTH PRESIDENT OF THE UNITED STATES ;
TOGETHER WITH
HIS STATE PAPERS,
INCLUDING
HIS SPEECHES, ADDRESSES, MESSAGES, LETTERS,
AND
PROCLAMATIONS,
AND
THE CLOSING SCENES CONNECTED WITH HIS LIFE AND DEATH.
BY
HENRY J. RAYMOND.
TO WHICH ARE ADDED
ANECDOTES ,AND PERSONAL REMINISCENCES OF PRESIDENT LINCOLN,
BY FRANK B. CARPENTER.
WITH A STEEL PORTRAIT, AND OTHER ILLUSTRATIONS.
NEW
YORK:
DERBY AND MILLER, PUBLISHERS,
No. 5 SPRUCE STREET.
1865.
---
Entered according to Act of Congress, in the year 1865,
BY DERBY & MILLER,
In the Clerk's Office of the District Court of the United States for the Southern District
of New York.
---