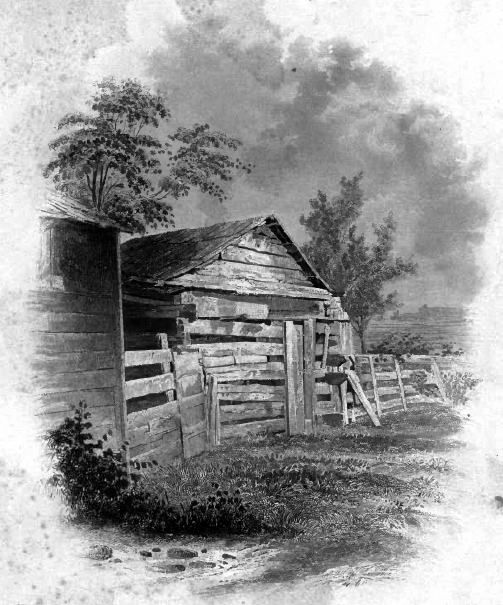 ABRAHAM LINCOLN'S EARLY HOME IN KENTUCKY
EARLY LIFE OF ABRAHAM LINCOLN
EARLY LIFE OF ABRAHAM LINCOLN.--HIS OWN RECORD.--HIS ANCESTRY.-CHANGES OF RESIDENCE.--DEATH AND FUNERAL OF HIS MOTHER.--ENTRANCE UPON POLITICAL LIFE.--A MEMBER OF THE LEGISLATURE AND OF CONGRESS.--THE MEXICAN WAR.
THE compiler of the "Dictionary of Congress" states, that while preparing that work for publication, in 1858, he sent to Mr. Lincoln the usual request for a sketch of his life, and received the following reply:
"BORN, FEBRUARY 12, 1809, in HARDIN COUNTY, KENTUCKY.

"EDUCATION DEFECTIVE.

"PROFESSION, A LAWYER.

"HAVE BEEN A CAPTAIN OF VOLUNTEERS IN BLACK HAWK WAR.

"POSTMASTER AT A VERY SMALL OFFICE.

"FOUR TIMES A MEMBER OF THE ILLINOIS LEGISLATURE, AND WAS A MEMBER OF THE LOWER HOUSE OF CONGRESS.

"YOURS, &C.,

" A. LINCOLN."
Around the facts stated with such characteristic modesty and brevity clusters the history of the early life of our late President. The ancestors of Abraham Lincoln were of English descent; and although they are believed to have originally emigrated to this country with the followers of William Penn, it is difficult to trace them farther back than to their place of residence in Berks