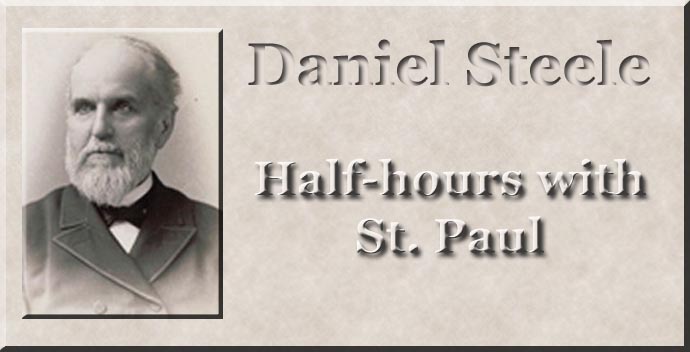 Half-Hours with St. Paul
And
Other Bible Readings
By
Daniel Steele
Recent professor of New Testament Greek in Boston University.
Author of "Love Enthroned," Mile-Stone Papers," "Antinomianism
Revived," "Commentaries on Leviticus, Numbers, and Joshua,"
and Co-Author of "People's New Testament Com-
mentary," and Reviser of "Binney's Theo-
logical Compend Improved."
______________________
BOSTON
THE CHRISTIAN WITNESS COMPANY
1895
---
Copyright, 1894,
By McDonald & Gill Company.
TYPOGRAPHY AND ELECTROTYPING BY C. J. PETERS & SON,
145 HIGH STREET, BOSTON, MASS.
---
DEDICATORY
To My Two Sons in the Ministry of the Gospel,
To My Pupils in Three Universities,
To My People in Fifteen Pastorates,
AND
To All Saints Who Hunger After Righteousness,
THIS VOLUME,
In a Consciousness of Its Defects,
Is Prayerfully Inscribed,
AS A TOKEN
OF RESPECT AND IMPERISHABLE LOVE.