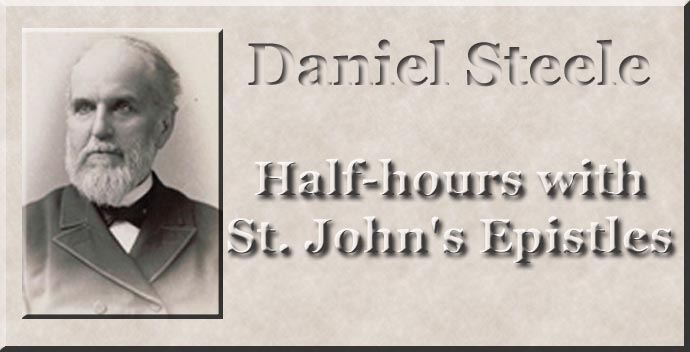 Half-hours
with
St. John's Epistles
BY
DANIEL STEELE, D.D.
Recent Professor in the School of Theology of Boston University
Author of "Love Enthroned," "Milestone Papers," "A Substitute for Holiness
or Antinomianism Revived," "Commentaries on Leviticus, Numbers and
Joshua," "Half-Hours with St. Paul," "Defense of Christian
Perfection," "Gospel of the Comforter," "Jesus Exultant,"
and Co-author of "People's Commentary," and
Reviser of "Binney's Theological
Compend Improved."
Boston & Chicago
CHRISTIAN WITNESS COMPANY
1901
---
Copyright 1901
CHRISTIAN WITNESS COMPANY
---
Dedicatory
TO MY PUPILS, WHO ARE DEACONESSES OF THE
CHURCH WHICH IS AT BOSTON, THE
SUCCORERS OF MANY.