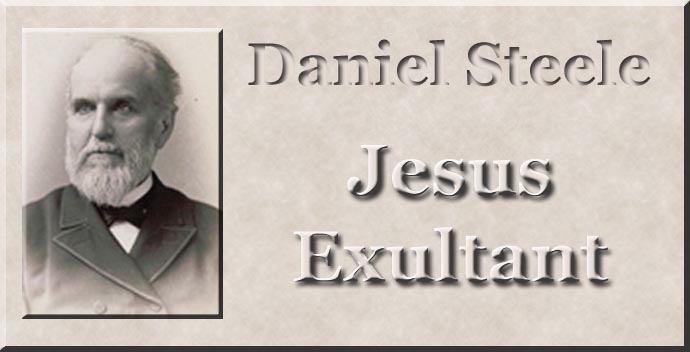 JESUS EXULTANT;
OR,
CHRIST NO PESSIMIST,
And Other Essays.
BY
DANIEL STEELE, D. D.,
RECENT PROFESSOR IN THE SCHOOL OF THEOLOGY OF BOSTON UNIVERSITY. AUTHOR OF
"LOVE ENTHRONED," "MILESTONE PAPERS," " ANTINOMIAN1SM REVIVED,"
" COMMENTARIES ON LEVITICUS, NUMBERS AND JOSHUA," " HALF HOURS
WITH ST. PAUL," "THE GOSPEL OF THE COMFORTER," AND
CO-AUTHOR OF " PEOPLE'S NEW TESTAMENT COMMENTARY,"
AND REVISER OF " BINNEY's THEOLOGICAL
COMPEND IMPROVED."
_______________________________
BOSTON AND CHICAGO :
CHRISTIAN WITNESS CO.
1899.
---
Copyrighted, 1899,
By The Christian Witness Company.
---
Dedicatory
To the Memory of my Mother,
Clarissa Brainerd Steele.
1788—1853.