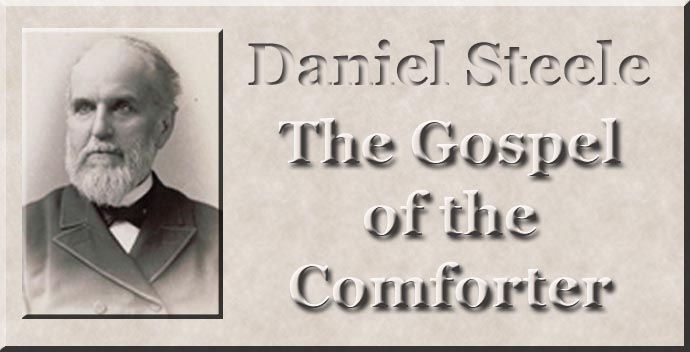 The
Gospel of the Comforter
By
Daniel Steele S. T. D.
RECENT PROFESSOR OF SYSTEMATIC THEOLOGY IN BOSTON UNIVERSITY.
AUTHOR OF "LOVE ENTHRONED," "MILE-STONE PAPERS," "ANTINOMIANISM
REVIVED," "COMMENTARIES ON LEVITICUS, NUMBERS AND JOSHUA,"
"HALF HOURS WITH ST. PAUL," "DEFENCE OF CHRISTIAN PERFECTION,"
AND CO-AUTHOR OF "PEOPLE'S NEW TESTAMENT COMMENTARY,"
AND OF "BINNEY'S THEOLOGICAL COMPEND IMPROVED."





BOSTON:
THE CHRISTIAN WITNESS COMPANY
1807
---
Dedicatory.
To My Two Dutiful Christian Daughters,
Caroline Binney Steele
And
Mary Grace Steele,
And
To All Other Believers In Christ Who Aspire To A Knowledge Of The Most Vital Christian Doctrine,
And
To A Realization Of The Deepest Spiritual Experience,
Through The Abiding Comforter,
This Volume
Is Prayerfully And Hopefully Inscribed.