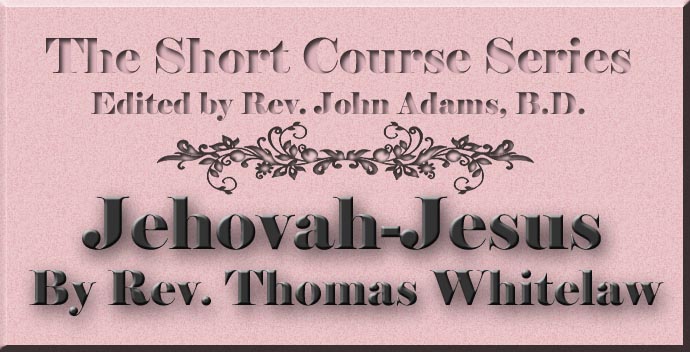 THE SHORT COURSE SERIES
Edited by Rev. John Adams, B.D.
---
Jehovah-Jesus
By Rev. Thomas Whitelaw, D.D.
Appendix
The principal literary source for this subject is the Bible, and in particular the Gospels and Epistles of the New Testament. All writings on the Person of Christ — whether by Calvin (Institutes), Dorner (The Person of Christ), Hengstenberg (Christology), Gess (Person and Work of Christ), Oosterzee (The Image of God), Martensen (Christian Dogmatics), Hodge (The Divinity of Christ in Systematic Theology), etc. — derive their information and arrive at their conclusions from the statements of Scripture. The various passages that refer to Christ's person should therefore be carefully studied, with the help of the best commentaries. The present writer may be allowed to suggest that his work on How is the Divinity of Jesus depicted? (Hodder & Stoughton) may be helpful to the student; so may all works which treat of Christ's personal pre-existence (actual, not merely ideal as Beyschlag contends) assist in establishing the identity of Jesus with Jehovah.