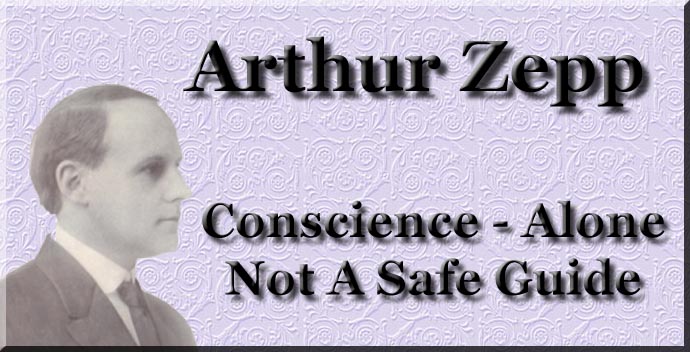 Conscience
Alone Not A Safe Guide
By
Arthur Zepp
Author Of
Progress After Entire Sanctification,
And Walking As He Walked. Or
Holiness In Action
"Trust that man in nothing who has not a conscience in everything."
"Before there can be an 'entrance into' and 'enjoyment of' the Higher Life of Sanctification,
there must first be a 'terribly searching' application of the Law of God to the heart and conscience of man" -- President C. G. Finney.
"And herein I exercise myself always to have a CONSCIENCE void of offense toward God and toward men." -- Paul, Acts 24:16.
"WE NEVER DO EVIL SO EFFECTIVELY as when we are led to do it by a false principle of conscience."
1913
The Christian Witness Company
Chicago, Ill.
---
Copyright 1913
By The Christian Witness Co.