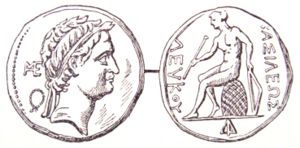 Seleucus IV Philopator, ruler of the Hellenistic Seleucid Empire, reigned from 187 BC to 175 BC over a realm consisting of Syria (now including Cilicia and Palestine), Mesopotamia, Babylonia and Nearer Iran (Media and Persia).
He was compelled by financial necessities, created in part by the heavy war-indemnity exacted by Rome, to pursue an ambitious policy and was assassinated by his minister Heliodorus.
The true heir Demetrius, son of Seleucus, now being retained in Rome as a hostage, the kingdom was seized by the younger brother of Seleucus, Antiochus IV Epiphanes, even though an infant son, also named Antiochus, was formal head of state for a few years until Epiphanes had him murdered.
Preceded by Antiochus III the Great
Succeeded by Antiochus IV Epiphanes