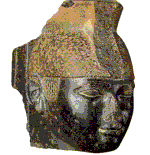 S

on of Piankchi and Abale. He is regarded as a ruler who re-united the Land. At that time the prince and actual ruler of Thebes was Montuemhat – the fourth prophet of Amun. Tahar

q

a rebelled at Sydon in 677 BC which caused Ashaddon's campaign as a result of which Lower Egypt fell into Assirian possession while Tahar

q

a escaped to Thebes. In 669 BC Tahar

q

a regained the rule over Delta from local princes. Building activities of Tahar

q

a refer to most splendid periods of Egyptian history and their traces can be found all over the Land. Most known are: temples at Sanam, Kawa, Atribis, Pnubs, Semna, Kasr Ibrim and numerous structures at Karnak and Theban district. Burial place probably pyramid at Nuri, although it can not be excluded that he was buried in another place at Sedeinga, in pyramid-tomb where blocks with the name of Tahar

q

a and corpse of 50 years old man were discovered

.